How do I request a withdrawal?
Follow these three easy steps to request a withdrawal:
1. After signing in to your account, click the profile icon at the top of the page.

2. From the Cashier window, select 'Withdraw'.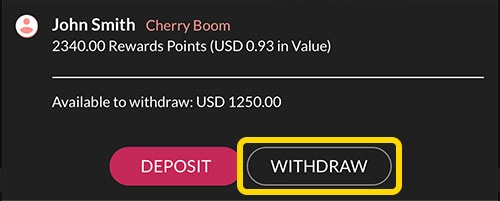 3. Select the withdrawal method you wish to use from the menu.

4. Enter the amount you want to withdraw along with any other required information, then click 'Request Withdrawal'.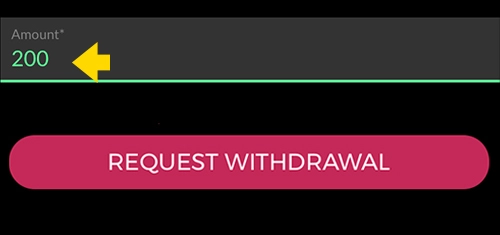 5. You will then be presented with a unique reference number.

6. After this confirmation, you'll receive a text message with a verification code. This is to ensure the security of your funds, you'll have to use this code to complete the transaction.
When you request a withdrawal:
All deposits must be wagered completely before any winnings can be withdrawn. By not meeting this requirement, your withdrawal may be subject to cancelation and return of funds to your account balance.

Exceptions will be made for peer-to-peer methods such as Player Transfer and MatchPay - when there is a re-deposit, in whole or in part of a previous withdrawal.

Double check your address on file to avoid delivery delays. We are unable to send a cheque by courier withdrawal to a P.O. Box (or military addresses)
There is a withdrawal fee of $75 for each Check by Courier request you submit.
For verification purposes, per our Terms of Service, you could be required to submit documentation prior to a payment being handled.
Please ensure that all pending or pre-authorized deposits into your Slots.lv account have been settled first.
Checks requests exceeding $2,000 will be sent incrementally every 7 days until you are fully paid out. A $75 processing fee will be charged for each withdrawal increment.
Cryptocurrency (BTC/BCH) requests exceeding $2,500 will be sent incrementally every 3 days until you are fully paid out.
Should you lose or misplace your check, a STOP PAYMENT fee of $40 may be charged before the funds are returned your account. Deposit your check as soon as possible as it may become non-cashable after a period of time. The STOP PAYMENT option is unavailable on checks older than 6 months.
Withdrawals via Bitcoin will not be processed until all deposit transactions have been confirmed.
Did you find what you were looking for?