WE'RE GIVING AWAY $50,000+ IN BITCOIN IN MAY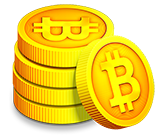 Congratulations to Diana W
$9211.33
This weeks Bitcoin Giveaway Winner!
DEPOSIT OR REFER A FRIEND FOR A CHANCE TO WIN!
It's easy to WIN, with a ¼ of a Bitcoin up for grabs every week in May. Every deposit or referral made Monday to Sunday gives you an entry into that weekend's prize draw (end 11:59pm Sunday night).
Prize draws take place every Monday, and winning customers will be announced via the website, email and/or text message, and will be contacted by our promotions team to confirm the win (phone first, email second).
Are you ready? Then get in on the Bitcoin Giveaway!
WINNER'S BOARD:
| | | |
| --- | --- | --- |
| WEEK 1 | Jon E | $13,780.85 |
| | | |
| --- | --- | --- |
| WEEK 2 | Nicole J | $11,120.68 |
| | | |
| --- | --- | --- |
| WEEK 3 | Amanda P | $9,413 |
| | | |
| --- | --- | --- |
| WEEK 4 | Diana W | $9211.33 |
BENEFITS OF BITCOIN
Bitcoin is the digital currency that everyone's talking about and it's revolutionizing how we trade and spend money. There are a few reasons to use Bitcoin at Slots.lv. It's fast, secure and holds no transaction fees associated with traditional payment methods! If you're new to Bitcoin, no worries... just enter the draw and Slots.LV will set you up if you win!
Terms & Conditions:
The Slots Bitcoin Giveaway runs from May 3rd - May 30th, 2021 inclusively.
It consists of four, weekly prize draws, where the winning customer will receive ¼ of a Bitcoin (with a total of 1 Bitcoin being given away over the full course of the Promotion and the four prize draws).
The Promotional Week is Monday through Sunday.
Customers gain one entry into the next available prize draw, each time they:
1. Make a successful deposit of a minimum of $20 during the Promotional Week; or
2. Make a successful referral during the Promotional Week.
There is no limit to the number of entries a customer can accumulate.
The weekly draw will take place every Monday following the Promotional Week.
The winner will be notified by phone within 48 hours of the draw.
The quarter of a Bitcoin prize amount will not be subject to rollover, and will be credited in the customer's account.
$50k+ total prize money for the giveaway is based on the average Bitcoin value in USD for the month of April.
The prize amount will be determined at the time of crediting based on the current value of Bitcoin.
By accepting the prize, the winner consents to use of their name in connection with the Promotion.