Online slots is one of the most widely used catchall terms in all of gambling.
You'll hear gruff grannies talk with pride about winning big bucks with just a few pennies on the slots. Tourists visiting Las Vegas for the first time inevitably look for the slots to dip their toes in.
And online casinos like Slots.lv build their library of games around a diverse selection representing everything the slots have to offer.
But because the blanket term has become ubiquitous over the years, many players tend to lump slot machine games into one basic category. To them, the slots are simply a game of chance, one which involves little more than pressing a button and waiting for the reels to return a result.
If they only knew…
When you explore the menu of 217 games and play online slots on this site, you'll find a diverse collection of concepts ranging from classic to cutting edge. As it turns out, software designers and game inventors have created a long lineup of online slots variations that offer increasingly interactive gameplay.
By incorporating intricate themes and intriguing characters, building storylines around every conceivable theme, and expanding on basic slot spinning with an array of in-game features, the best real money slots today provide an immersive experience.
To help get you reacquainted with what the slots really represent in 2019 and beyond, check out the comprehensive real money slots guide below:
3 Reels Slots
The first true slot machine gamblers ever laid eyes on was the Liberty Bell, an iconic invention that hit barroom floors in San Francisco around 1898. German immigrant turned inventor Charles Fey improved upon the earliest reel-based gambling machines - which paid back tickets at the time - by designing the Liberty Bell to spit back the very same coins players wagered.
In order to win a handful of pennies, or perhaps the game's $0.50 jackpot when Lady Luck was on their side, Liberty Bell players had to line up three matching symbols along a single payline.
Thus, the first real money jackpot slots the world ever saw was built from a basic 3-reel foundation. From there, Fey's machine was immediately mimicked in gambling halls throughout Nevada and along the Mississippi - so much so that slot machines became the gold standard for gambling by the turn of the 20th century.
And for most of that century, traditional 3-reel slots retained their original form. Sure, the reel symbols expanded from playing card suits to fruit, 7s, and BARs, and the pull lever was replaced by the "SPIN" button, but the actual gameplay remained intact. Players spun three reels at once, with the goal being to land three matches along the horizontal payline running straight through the reel screen.
Eventually, 3-reel designs gave rise to an expanded 5-reel games in the 1990s, thanks in large part to the advent of slot machines equipped with video screens. You'll learn more about 5-reel and video slots later on, but sufficed to say, the sheer variety encountered when you play online slots stems directly from Fey's original 3-reel layout.
Fortunately for fans of the old-school, Slots.lv offers 27 unique 3-reel slot titles running the gamut from classic to cute.
If you're a minimalist who prefers their slots to be streamlined, check out Sevens and Bars - which uses only the 7s and BAR symbols your grandparents spin to win. Diamonds and Cherries, Five Times Wins, and Fantastic Fruit also manage to inspire that sense of nostalgia classic 3-reel slots tend to evoke.
Playing 3-reel slots doesn't have to be a "back in the day" affair, however, as you'll find dozens of more modern titles based around clever themes. Heroes Realm is reminiscent of a good "Game of Thrones" episode, while Global Cup Soccer and Surf Paradise revolve around athletic pursuits.
5 Reels Slots
When your jaw drops at the sight of a wall-to-wall bank of massive machines - glowing and ringing like something out of a video game arcade - you've found the modern 5-reel slots that spin specialists everywhere know and love.
Sin City resorts are filled with the latest and greatest 5-reel games, and Slots.lv is no exception. Here you'll find the best real money slots of the 5-reel variety found anywhere online, with 105 titles and counting to choose from.
Whereas the classic 3-reel slots are generally limited to just a single payline, their 5-reel cousins can up the ante considerably. By expanding the reel screen to five reels - either in the 3x5 or 5x5 design - these games create a whole host of additional winning combinations.
The 5-reel slot concept gave rise to paylines, which are those zig-zagging lines you see flashing across the reels after a winning spin. Rather than limit the potential results to three matches along one specific payline going straight across the reels, 5-reel games can contain 5, 10, 20, 30, or even 100 paylines.
The smash hits of the slot world - games like A Night With Cleo, Aztec's Treasure, and 8 Lucky Charms - are all based on the 5-reel layout.
And with more than one payline to work with, these games can incorporate special symbols like scatters, wilds, and stacks to spice up every spin with additional winners.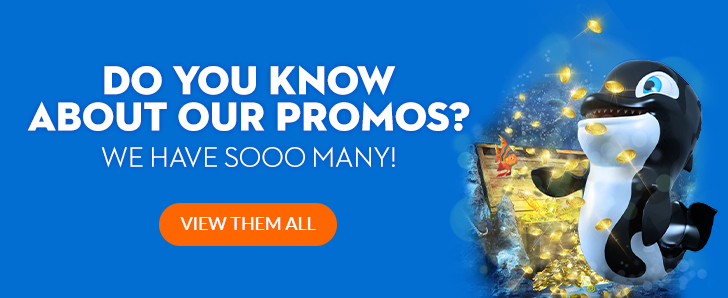 3D Slots
At some point in the evolution of slot gaming, an intrepid designer asked themselves a crucial question - why should the gameplay remain limited to reels alone?
And after arriving upon the answer of a lifetime, they managed to change how slots are played forever afterward by introducing 3D games.
The idea of a 3D slot might seem like a misnomer, but as video slots transformed into online offerings, software platforms opened things up like never before. Along with the base game's primary reel screen, 3-D slots can instantly transport players to any number of side-screen bonus games, free spin challenges, prize wheels, and other immersive experiences.
And even that main reel screen can be made into a 3D journey by adding animations, sound effects, and video clips to each and every spin.
Take a game like Gold Rush Gus as the perfect example of how powerful a 3D slot game can really be. This side-scrolling action adventure invites players into a trip back in time, as Gus - an old prospector on the hunt for gold and gemstones - stakes his claim to a '49er camp. Gus himself is rendered in true video game glory, twirling his trusty pickaxe in between spins, dancing the jitterbug to celebrate big wins, and even battling enemy miners intent on stealing his stash.
Rather than the dry, "spin and wait" gameplay found on some slots, 3-D games like Gold Rush Gus make every credit wagered an adventure. The reels don't just spin and land, Gus excavates the symbols by slamming blocks of rock with his big axe. And those blocks proceed to explode while uncovering a glittering array of minerals and precious metals.
Throw in lava spills, a friendly gopher offering Treasure Chests, and even a skill-based race through a mineshaft which requires hand-eye coordination to collect gold coins - and 3D slots like Gold Rush Gus are surely the wave of the future.
Progressive Slots
Every slot player under the sun shares the same dream - seeing the screen light up to signal a progressive jackpot win.
Progressive jackpot slots have been around since Megabucks debuted in 1986, and since that time, many multimillionaires have been minted thanks to a lucky spin. The Slots.lv menu holds 50 games connected to a progressive jackpot kitty, which means every spin put in across the network contributes a tiny fraction of the bet to the jackpot.
Games like Shopping Spree are known worldwide for offering massive progressive jackpots that swell into the seven-figures. And when you play Super Diamond Mine or Food Fight, the potential rewards routinely reach into the high six-figures.
Video Slots
If 3D slots are what the future has in store, Video Slots are the vehicle by which that future was made possible.
Up until the 1990s, slot players were content with physical reel drums, single paylines, and pull levers. Adding a video screen akin to arcade gaming changed all that in a flash though, allowing slot designers to indulge their creative whims like never before.
Almost all of the games found on Slots.lv – from 3-reel and 5-reel to 3-D and Progressive titles – involve Video Slot elements in one way or another. Those fun animations that appear at random, scatter and wild symbols combining to create winning combos, and slots that involve immersive storylines are features that all originated with Video Slots.
As it's always been since the days of Fey and his Liberty Bell machine, when you choose to play online slots, you're looking for more than a simple gamble. The goal for any great slot game should always be to entertain players, providing value that goes beyond the chase for line pay winners and jackpot scores.
Slots.lv is committed to providing its players with online slots variations that always hold true to that spirit. Whether you're a purist who prefers 3-reel games, an innovator who enjoys the inventiveness of 5-reel, Video, and 3-D designs, or a progressive jackpot slots hunter on the prowl for life-changing payouts - variety truly is the spice of life here at Slots.lv.