Ever since inventor Charles Fey introduced his famed Liberty Bill slot machine way back in 1898, gamblers have been fascinated with randomly spun reels.
It's been more than a century since the Liberty Bell machine transformed the casino floor, but Fey would be proud of the future formed by online slots. His original three-reel, single-payline concept – which used playing card suits for symbols and paid a $0.50 jackpot for three Bells – has been updated and augmented over the years, leading to the Slots.lv lineup of over 200 unique titles you see today.
Scatter symbols and wilds, free spin bonus rounds, win multipliers, video clips and sound effects, and of course, those massive progressive jackpots – when you play online slots in 2019 and beyond, you're always in luck.
But while luck certainly plays a role when you play online slots for real money, savvy spinners know how to improve their chances by using a few simple tricks of the trade.
In the guide below, you'll find five real money online slots tips designed to improve your expected return over the long run, while enhancing your entertainment value in the short term.
Use Slots Bonus and Promotions
The first step in any online slots guide worth its salt should focus on taking full advantage of casino bonuses and promotions.
Fortunately for you, fans of Slots.lv enjoy a steady stream of welcome bonuses, referral rewards, and reload matches found on the Promotions page. But before you begin exploring those offers, it's best to learn exactly how bonuses for real money slots games really work.
The most commonly claimed online casino bonuses are connected to a player's deposit, either through a Welcome Bonus upon signing up or a Reload Bonus on future transactions. By checking the Casino Promotions page regularly, you'll find bonus codes that can be used during a deposit to instantly boost your bankroll.
We suggest using Bitcoin to maximize your welcome bonus. The Bitcoin Welcome Bonus can provide up to $7,500 in bonuses. And when you use the Weekly Boost with 200% up to $500.
From there, simply put in enough spins to reach the bonus "playthrough" requirement (more on this to come) and the funds are yours to continue playing with or withdraw.
Welcome Bonus
Here on Slots.lv, new players are greeted with a generous Welcome Bonus that stretches to cover their first nine deposits. When you make your initial deposit, be sure to use the bonus code "HELLOSLOTS200" to claim a 200% match bonus up to $1,000. In other words, your first deposit amount will immediately be tripled, up to $1,000, thanks to the 200 percent match.
Going forward, your next eight deposits can be doubled via 100% match, up to $500, by using the bonus code "HELLOSLOTS100."
For folks who fully maximize their Casino Welcome Bonus leverage, these free funds can top out at $5,000 – providing a pretty sweet safety net when you play online slots for real money for the first time.
To unlock those bonus funds for withdrawal purposes, players need to play online slots and wager an amount equal to 35x the combined bonus and deposit amount. Every slot on the menu provides a full 100% contribution to that playthrough requirement though, so it doesn't take much time on the reels to hit your bonus benchmarks.
Bitcoin Welcome Bonus
If you're a cryptocurrency enthusiast, Slots.lv has a special Bitcoin Welcome Bonus that offers a 300% match, up to $1,500, on your first deposit.
Just use the bonus code "SLBITCOIN300" for that one, while the bonus code "SLBITCOIN150" is good for a 150% match, up to $750, on your next eight deposits.
Weekly Double Up Reload Bonus
As you enjoy more than 200 real money slots games on Slots.lv, you might need to top off your bankroll from time to time.
If so, don't forget to use the weekly bonus code revealed on the "My Bonuses" section of your virtual wallet. These codes change every week, but you can use them up to seven times over that span to score a 100% match up to $100 on reload deposits.
Other Promotions
Deposit bonuses aren't the only way to earn free funds, and if you have friends who like spinning the reels just like you, invite them to sign up for an account of their own.
When you use the Refer a Friend program found on the Promotions page, your friend's first deposit produces an instant 100% match bonus, up to $200, that goes straight to your account.
Finally, regular players who accumulate points as part of the MySlots Rewards program can redeem those points for instant bonuses and other goodies.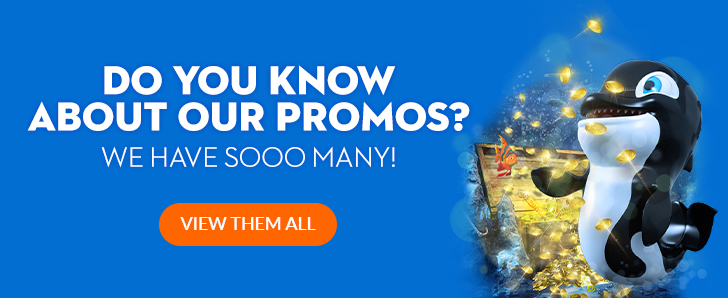 Check the Payouts
After all the talk of bonus funds, you're probably in the mood to start spinning and put those freebies to good use.
But this online slots guide wouldn't be of much use if it didn't advise players to slow down and study their pay tables before proceeding. One of the most useful real money online slots tips you'll ever learn, sifting through the minutiae of pay tables is essential to long-term success.
The intricate themes, cool characters, and in-game features might be what catches your eye, and the topline jackpot payouts keep your attention, but a slot player's bread and butter will always be basic payline winners. While you're grinding away and shooting for the most significant scores up top, it'll be the smaller line pays that sustain your bankroll and give you extended playability.
But pay tables aren't standardized by any means, as every game designer likes to spice things up by constructing unique combinations of reel alignment, payline count, and symbol values.
Take two of the most popular slots on the menu – A Night With Cleo and Gold Rush Gus – as the perfect example. Both games incorporate interesting characters and themes, along with the same 3x5 reel alignment and 14 different symbols to work with. Both games are connected to huge progressive jackpots, and they even share the same scatter, wild, and free spin features.
Knowing these facts, at first glance you might suspect A Night With Cleo and Gold Rush Gus would offer a similar gameplay experience in terms of payline winners.
But when you dive deeper into the pay table data – readily available in every slot game's Rules and Settings menu – you'll find these classic slots are built quite differently.
The highest payline winner in A Night With Cleo comes to a whopping 10,000 credits, earned when you land five of the wild symbols along a payline. Next up, the Eye and Scarab symbols both pay back 500 credits for lining up five in a row. And for the lowest-ranking playing card symbols of 9, 10, J, and Q, you'll bring back two credits just for finding two straight.
Head over to Gold Rush Gus, however, and it's a completely different scene. The topline payout here is 500 credits for landing five Blue Diamonds, and you'll need four of the lowest-ranking symbols for a 20-credit reward.
Both games are great fun, but by examining their pay tables closely, you can see how they offer distinctly different experiences during a typical session.
With so many ways to earn small "double up" winners, A Night With Cleo is less volatile thanks to all those breakeven spins. Conversely, a Gold Rush Gus player will see a few more dry spins show up, but when they hit a winner it'll generally payback at a 20x or higher multiple.
Hunt for Big Jackpots
All slots have something to offer, but games connected to huge progressive jackpots up the ante considerably.
To sort all 50 of these high-end slots into a single menu, simply click the "Jackpot Slots" tab to see the site's full range of life-changing progressive prizes.
These bounties range from the multimillion-dollar Shopping Spree progressive, to the high six-figure scores up for grabs on games like Food Fight, Super Diamond Mine, and One Million Reels B.C.
The best part of jackpot slots is that even the basic line pays tend to be juiced up, giving you a chance to build a bankroll even when lightning fails to strike.
Bankroll Management
Speaking of building a bankroll, that's only half the battle for slot spinners – the real work comes with managing it correctly.
Most slot experts advise keeping your coin denomination connected to a small percentage of your total bankroll, which helps to mitigate variance. If you're working with $100, try spinning for $0.10 per play – good for a 1,000-spin arsenal of ammo – until you stack up to $200. Then you can jump to $0.20 per spin, and so on up the ladder.
Disciplined play is integral to sustaining long-term success in the slot arena, so if your bankroll does slide back down a rung, don't hesitate to dial back the coin denomination in kind.
By using this system, downswings won't be able to deplete your bankroll in one fell swoop, letting you rebound and rebuild much more easily.
Find the Right Slot
Every online slot under the sun – including the 217 titles and counting found on Slots.lv – are completely unique creations.
Designers weave together fundamental foundations like reel alignment, payline count, and jackpot awards with thematic features built around interesting characters and immersive storylines.
As a result, slot enthusiasts have a never-ending supply of quests to lead and rewards to reveal. With that in mind, take the time to explore as many different games as you can to figure out which ones work best for you.
When you play a game of chance like the slots, it may seem like luck reigns supreme and the outcome is out of your control. But while that may be true over single spins and short-term samples, regular players rely on the real money online slots tips above to regulate variance.
By pouncing on bonuses and promotions whenever possible, paying close attention to pay table details, playing for the best progressive jackpots, properly managing your bankroll, and picking the right slot game for your personal needs – anybody can master online slots basics.